Welcome
London Cartoonist, Mike Mosedale creates personalised cartoons, caricatures and illustrations, with over 30 years experience.
These range from; editorial cartoons, business cartoons, office cartoons, teaching or educational cartoons, children cartoons, computer cartoons, topical cartoons, medical cartoons and law cartoons.
Professional Cartoonist, Caricaturist and Illustrator based near London, with competitive prices, a quick turnaround, friendly service, and with 100s of satisfied clients. Cartoon strips, caricatures and humourous illustrations as used by a number of leading newspapers, magazines, publishers, ad agencies and design groups.
Clients have included: Private Eye, Channel 4, Tatler, Pearson Education, Bloomsbury, Carlton Publishers, Informa, Panini Comics, John Blake Publishing, Hodder & Stoughton, The Daily Mail, The Times, The Mirror, The Sunday Times, The European, The Economist, The Sporting Life, The Evening Standard, The Oldie, The Independent, Times Educational Supplement, and The Telegraph.
Please contact to discuss your requirements on…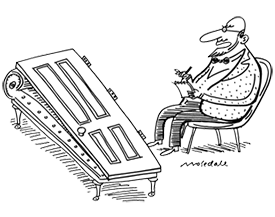 Bespoke cartoons for editorial, topical news events, teaching and education, office, business, computer and high tech, medical, law, industry and general commerce.
Caricatures from your photos for any event or occasion; birthdays, weddings and anniversaries, job promotion, successful transactions and deals, retirement, etc.
Illustrations to liven up magazine or newspaper editorial content where a photo is not suitable, or to project a message to the reader… add a slice of humour.
I have been to quite a few cartoonists over the years and Mike is by FAR the best. I have random ideas and he knows exactly how to utilize them. I get really excited when an email pings through from him with my idea brought to life. He's a rare find, so once you've got him – KEEP HIM!